Messages from Students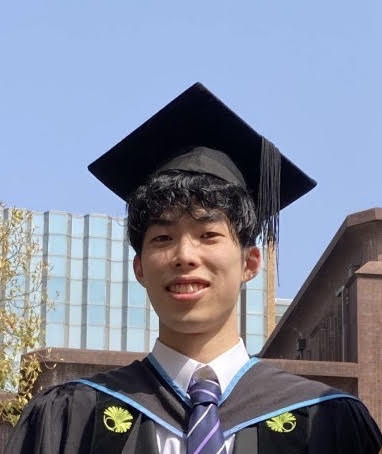 Sota Uchida

Bioorganic Chemistry M1
I have two main reasons why I applied to the Department of Chemistry in the Faculty of Science. First the department has laboratories that deal with all areas of chemistry, so there is always something interesting when choosing a laboratory. For example, we not only have laboratories that deal with organic, inorganic, and physical chemistry, but also geochemistry and biochemistry. As the name "Faculty of Science" implies, of course you can do basic and theoretical research, but some laboratories also do applied research, and all of them are doing cutting-edge research. In my case, I was attracted to the Department of Chemistry because of its ability to create physical things, but I had not decided what specific field I wanted to go into. Then a COVID-19 occurred, and our peaceful daily life changed drastically. I thought that one of the ways to contribute to solving such a pandemic, from the viewpoint of chemistry, would be to develop vaccines and therapeutic drugs. Thus, I applied to my current laboratory, the Suga lab, which is conducting research that could lead to drug discovery.
Another reason is that I can develop a global perspective. I felt that in order to be a researcher in the future, I needed to be able to discuss things in English from early on in my career. As you know, the Department of Chemistry in the Faculty of Science offers all classes in English, so you are constantly exposed to English. Not only that, but in the Global Science Course, a program unique to the Department of Chemistry in the Faculty of Science, I experimented and worked hard together with students from overseas. Although all scheduled study abroad programs were cancelled due to COVID-19, thanks to these programs, I was able to have discussions with foreign students in English and give presentations in English.
If you have even the slightest interest in the study of chemistry, the Department of Chemistry in the Faculty of Science is sure to be the right place for you. Through the curriculum of the Department of Chemistry, you will be able to develop the skills to become a world-class researcher.
---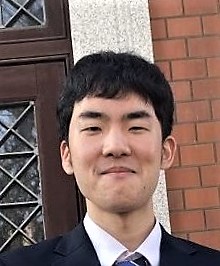 Ryohei Matsuno

Inorganic Chemistry M1
I chose chemistry because I was attracted to the dual nature of it, which has the aspect of a science that theoretically explains the reasons for phenomena, and at the same time, it is closely related to our daily lives, supporting the world from the basic level in terms of materials for various things around us.
Because I had never studied chemistry on my own, when I entered the Department of Chemistry, I was concerned about the gap in knowledge level between myself and some of my classmates, but thanks to the detailed lesson, I was able to gradually improve my knowledge while encouraging with the excellent students around me. In my third year, we started student experiments, and we were given four days a week to learn basic experimental procedures and principles. As I am a clumsy person, there were many times when experiments took a long time and I had to stay until the very last minute or could not finish within the time limit, but I feel that the experience in the student experiments has helped me in my current research in the laboratory. In the fourth year, students are assigned to a laboratory, where we work on our own research themes, receiving advice from faculty members and senior students. Students are free to decide what we want to do, and we can pursue our own research independently. When I talk with my peers who are assigned to different laboratories, I feel their confidence and enthusiasm for their own research, and I receive good stimulation from them.
The Department of Chemistry has a wide range of laboratories in organic chemistry, inorganic chemistry, and physical chemistry, all of which are conducting cutting-edge and interesting research. I encourage you to visit the websites of these laboratories, and I'm sure you will find research that interests you. If you find a laboratory that stimulates your curiosity, please visit it and see for yourself. We hope you enjoy your laboratory life in the Department of Chemistry!
---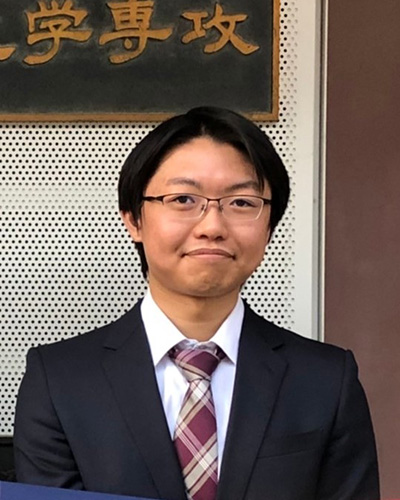 Naoki Kito

Catalytic Chemistry M2
What kind of study is "chemistry" to you? As you have learned in high school, you may imagine that the materials around you are made up of various atoms and molecules, or that some of visible phenomena are described by chemical reaction formulas. Some of you may also recall that we learned the theoretical explanations of properties and reactions of atoms and molecules in classes at Komaba. I believe that "chemistry" is a field of study that stands at the boundary between theory and reality, where we can deal with the various substances and phenomena around us from a theoretical aspect. I was fascinated by such nature of "chemistry", and therefore entered the Department of Chemistry.
In the third-year undergraduate classes, students are exposed to various fields of chemistry through lectures and experiments. Through the classes, students can deepen their own interests. Most of the lectures in the Department of Chemistry are given in English, which naturally fostering the English language skills needed in the field of research. In addition, through the student experiments conducted almost every day, students are able to learn basic experimental operations and how to analyze the results obtained. The skills nurtured through these curriculums will surely be useful in the research activities that begin in the fourth year of undergraduate school.
There are many laboratories in a variety of fields in this department, all of which seek to open up new frontiers using their sophisticated knowledge and theory. We can choose any laboratories we are interested in from the world top-level laboratories including not only organic, inorganic, and physical chemistry, but also biochemistry and geochemistry, which intersect with other fields. If you want to enjoy "chemistry" in such a luxurious environment, why don't you take the first step and enter the Department of Chemistry?
---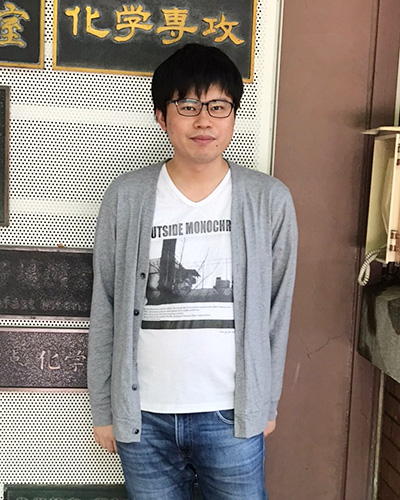 Daiki Sakaguchi

Solid State Physical Chemistry M2
It is one of the good points of studying in department of chemistry that you can have a lot of valuable experiences.
In the second semester of the second year, you learn the basic chemistry in Japanese. Also there is a lecture of English for chemistry which should help you to prepare for the English lecture in the third year. As soon as you become the third grade students, the English lectures and the student experiments start. In the lecture, you can learn many kinds of chemistry such as inorganic chemistry, organic chemistry and physical chemistry and you can learn basic methods of experiments in the student experiments. Japanese students and transfer students study in the same class from the third grade, so you may have many chances to talk each other and you can practice the communication in English. Moreover, in the May festival, you will give poster presentation about the results of group experiments in the laboratory with the support of teachers. You can know what experiments in the lab like before belonging to the lab. This experience will motivate you to study more and the process of making poster with group members is fun and valuable time. In the fourth grade, you will enter the lab and begin the research life which is also a valuable experience. You can carry out leading-edge study by using advanced equipment. The experience of finding new fact and giving presentation about it in front of many people should be helpful whatever you will do in the future.
Moreover, the chemistry department tries to develop global students and give you many opportunities to know variable cultures and thoughts. One of the opportunities is GSC (global science course) program. In this program, you will study in the overseas lab for a few months in the third grade winter or the fourth grade summer. You will experience not only the overseas research but also the difference of culture, the difficulty of living abroad and the communication with many non-Japanese students in this program.
As shown above, you can experience a lot in the department of chemistry. I recommend you to come to our department if you are interested in chemistry.
---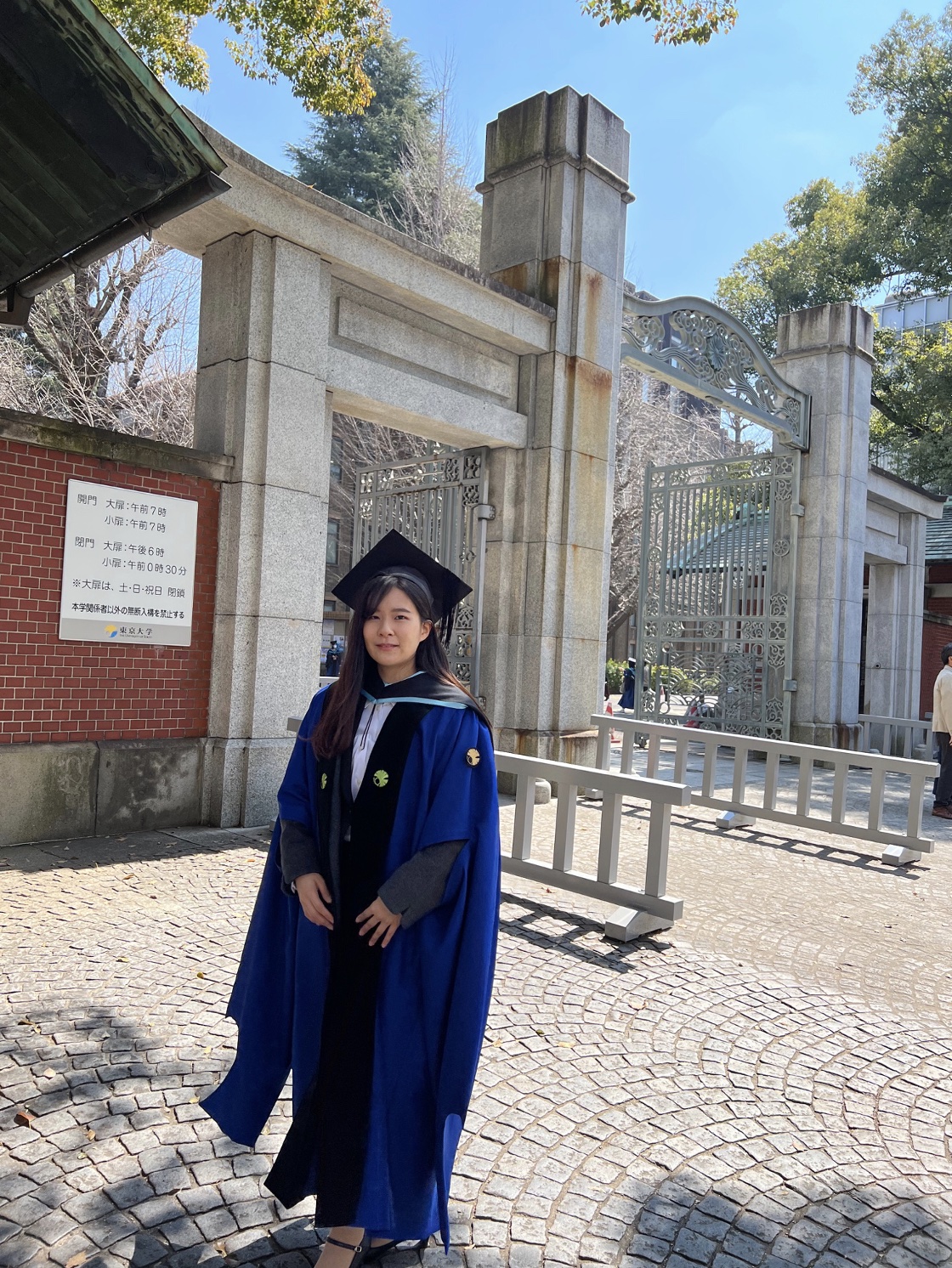 Misato Akiyoshi

Physical Organic Chemistry D1
I was enrolled in a private university in Tokyo when I was an undergraduate student. After taking the entrance examinations, I registered in the Department of Chemistry at the Graduate School of Science here. From an outside student's point of view, I would like to send a message.
I mainly did analytical research using existing substances during undergraduate. I decided to apply to this department because I hoped to create new highly functional materials with my own hands, and I also wanted to do cutting-edge research in the field of chemistry, which has a wide range of applications.
First, I attended sessions to get information in accordance with the graduate school's guidance and actively visited laboratories where I was interested in. I think it is very important to talk directly to professors, staff, and research students to get the atmosphere of the laboratory. At that time, I tried to imagine whether I would be able to experiment every day there and keep a good company with members of the laboratory. Preparing for the entrance examination was the toughest part for me. Each subject required advanced answers, so I had to manage to find time to study as much as possible while continuing and finishing with my graduation research.
I had a notion, "Will I be able to keep up with everyone academically?" There are differences in knowledge arising from differences in the curricula and elective subjects at each university. However, I don't think there is much to worry about it, although you will need to try to fill the deficient or missing part carefully. I changed the field from inorganic analytical chemistry to structural organic chemistry, and I have been struggling with my ignorance. However, with the generous support of the laboratory professor, staff, my seniors, and my peers, I was able to successfully complete my master's degree and continue my research in a doctoral program.
The department also focuses on English education. Lectures, laboratory seminars and master's thesis presentations are in English. I have always wanted to study English, but always put it off. Therefore, being in an environment where I must use it all the time has helped me to develop my English skills compared to when I first entered here, I hope.
I assume that it is not easy to a new theme in a new environment for you. However, I am sure if you study under this department, you will learn a lot. I hope that many students will read this message and challenge enrolling in this school.
---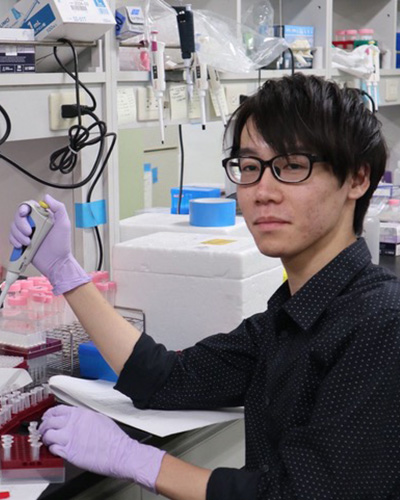 Yuto Ohno

Bioorganic Chemistry D1
My enthusiasm for "science" developed from a young age through my interaction with living creatures. At that time, catching insects or reading encyclopedia fulfilled my curiosity. Then, it changed into an academic passion.
A textbook said,
–Living creatures consist of cells. –
Then led me to a question, what contains in a cell?
–There are biomolecules, such as proteins and nucleic acids in a cell. –
What makes up a molecule?
–Atoms form a molecule. –
What is an atom?
–Electrons and a nucleus constitute an atom. –
…
A single question can raise some new questions sequentially. It is commonly said that science is a method which describes nature. "Biology" can explain phenomenon in a cell. "Chemistry" handles molecules and atoms. To reveal the behavior of an atom, "physics" would be the best way. I love the simple and clear way of chemistry, in which nature is deciphered by the bond rearrangements originating from atomic characteristics and its outer environments.
In the Department of Chemistry, students will be exposed to "chemistry" as a "science", not just its application. That is because everyone in this community is motivated by curiosity. Furthermore, you can take courses from other fields of the sciences and find friends sharing the same enthusiasm for science. If you were to major in chemistry in other schools, you wouldn't find such friends.
I personally experienced the above through the chemistry curriculum. You'll take lab courses every day during your third year and start your research during your fourth year. The research is not just a training under senior students nor following protocols. You can study the frontier of science through discussion with staffs and senior students. Most labs in this department are large-scale and fully equipped with facilities and faculties. We can say with confidence, this department satisfies all criteria required for science. Through your academic and research journey in the Department of Chemistry in the School of Science, you will discover the excitement of chemistry research as well as sharing those special experiences with fellow community. Come enjoy chemistry with us!!
---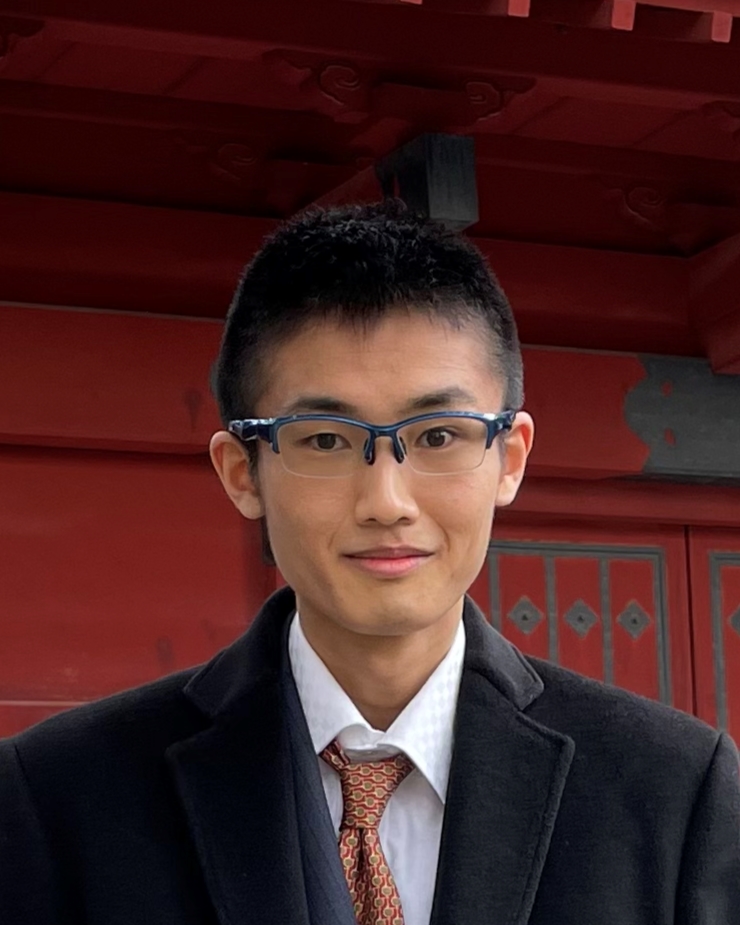 Ryuji Nakao

Structural Chemistry D1
The Department of Chemistry is waiting for you with wonderful opportunities and environments.
No matter which department you go on to, you will be expected to join a laboratory by your 4th year. Perhaps you will have no idea what you want to do or what your daily research life will be like until you actually experience it. At the Department of Chemistry, however, you can explore your interests through various lectures and student experiments that cover a wide range of chemistry and will have a chance to experience each laboratory through internships and other opportunities, so I'm sure that you will find a laboratory that best fits your interests.
The department offers most lectures in English and most students need to make some efforts on reading English textbooks. But through the experience, they come to acquire academic English. In addition, the Global Science Course provides the opportunity to study for two months in a foreign laboratory with financial support. I applied for this program by chance and stayed at the University of North Carolina at Chapel Hill for two months. It was a very valuable experience for me to recognize firsthand not only the diversity of foreign students' ways of thinking but also foreign lifestyles different from that in Japan.
Furthermore, the Department of Chemistry holds an annual inter-laboratory softball and soccer tournament, which is a great opportunity for friendly exchanges and a good change of pace.
In this way, I believe that you will have more exciting experiences once you enroll in the Department of Chemistry than you would initially have imagine. I'm looking forward to you joining the Department of Chemistry.
---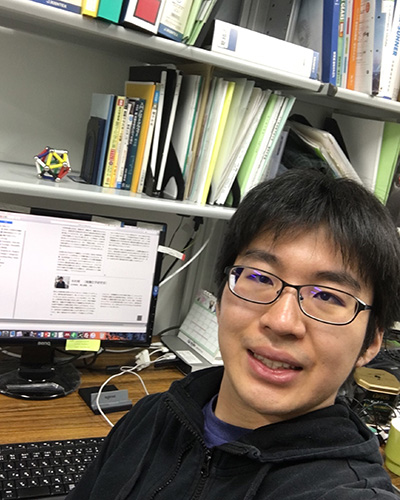 Shun Ito

Catalytic Chemistry D2
As for the Department of Chemistry in Faculty of Science, many people firstly come up with "English". There is an argument about the lectures in English, but I think that these lectures were good. Especially when I started the graduation research in the 4th grade, I had many opportunities to read English literatures and the chemical English I learned in the class was very useful. You may not get used to it at first, but you can make up for questions that you do not understand in English by asking questions in Japanese or reading Japanese reference books. An environment where students can get used to English slowly for one year in the third grade is a major feature of the Department of Chemistry. I think this is a great opportunity for people who are not good at English. As far as English is concerned, the student experiment gives each person a dedicated space, and can acquire the basic skills of a wide range of chemical experiments through the extensive equipment and curriculum. In addition to core fields such as organic chemistry and inorganic chemistry, lectures will cover a wide range of chemistry such as natural products chemistry and geochemistry.
In addition to the world-class research environment, the Department of Chemistry at the Faculty of Science offers extensive support for becoming a researcher in many aspects, such as student experiments, English classes, and global science courses. Those who are worried about going on to chemistry are welcome to the Department of Chemistry.
---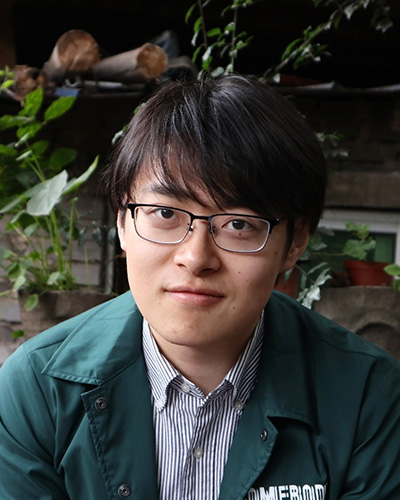 Jinxuan Zhao

Bioorganic Chemistry D2
In Xici-zhuan, ancient Chinese philosophers described the mission of people who investigates natural science: When they see a natural phenomenon, they will extract the mechanism out and solidify it into a real device. Then people can benefit from this device through utilizing the natural phenomenon. In many myths, fire is the gift from kind god to poor human, despite the fire is everywhere in nature. But I think the real god is the person who created the method to make fire. Chemistry is exactly doing the same enterprise for the world and society. Starting from fire, chemistry has extracted countless methods including detecting, transforming and creating substances.
The department of Chemistry is a launchpad for the students who are interested in deciphering the nature and willing to sharing the knowledge with the world. In the bachelor course, department provides a wide range of curriculum from quantum chemistry to lab work on organic chemistry, introducing the basic knowledge about how previous researchers worked and what they get from the nature. All lectures are performed in English together with foreign students to lay the foundation of an international admitted researcher. Then students are encouraged to join the laboratory and take part in more specific lab work during the graduation research. When students enter the graduated school, department will focus on offering the latest information of chemistry research through the lectures, seminars and conferences. In this stage, students are treated as real scientific workers with the right to find their own themes. If you are searching for the place to let science as a vocation for your life and contribute to the human beings, here is a perfect place for your career. We should control and utilize the nature rather than just praising and it. The department of Chemistry always welcomes the thefts of fire.
---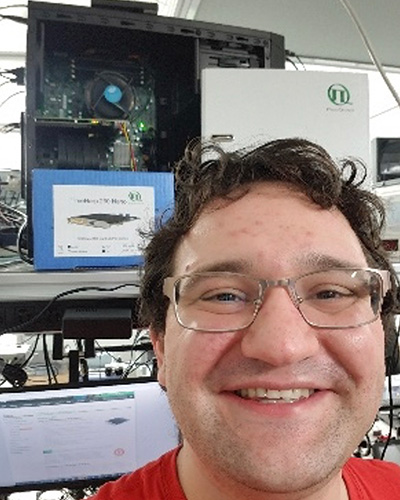 Phillip McCann

Structural Chemistry D2
From my own experience, the Department of Chemistry is one of the best places at the University of Tokyo to experience research in an international environment. Most of the lectures are conducted in English, and graduation from the department requires students to present and defend their research in English as well. As a foreigner, I know that it is not easy to present or take classes in a foreign language, however, this kind of opportunity is invaluable to those students who wish to work on the international stage. These types of requirements, along with the international outreach of the department, have led many foreigners (including myself) to join the department, creating a rich and diverse international atmosphere for students and professors to work in. I joined the department as a Masters student in 2018 because it was one of the only departments in Japan that I could apply to as a student living in the United States which did not require me to fly to Japan, take a test, and fly back home to wait for the results at my own expense. During these years, I have had a great time focusing on research and talking to my labmates in Japanese and English to mutually better our language skills.
That being said, student life at the Department of Chemistry is not necessarily easy and will take some effort to graduate. Once you become a 4th-year student, you will have to join a laboratory in the department and use all the knowledge you have acquired in your classes and labs to conduct a present an experiment of your own. However, you will never be alone and will have the opportunity to ask questions and learn from your fellow lab mates and professors. I have seen many Japanese students, Bachelors and Masters, graduate from the department with a much higher English level and scientific understanding than when they came in. In turn, many of them have used these new skills to fulfill their dreams of joining international companies and research facilities around the world. If you are looking for some challenge in your life and have big ambitions for your future, the Department of Chemistry here at the University of Tokyo is one of the best places to be!
---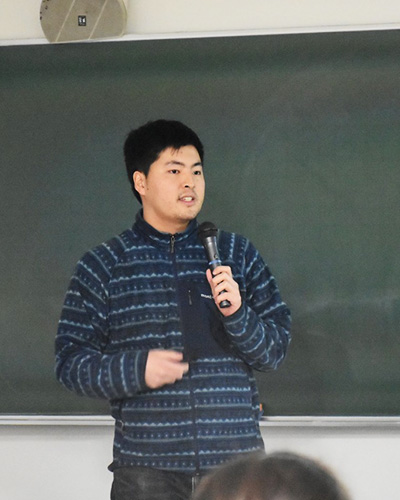 Yuta Nakagawa

Structural Chemistry D3
The word "serendipity" was coined to describe fortuitous encounters or unexpected findings. Many scientific findings that have had tremendous impact on our world have been attributed as a serendipity. In fact, it was quite a serendipity that I ended up at the lab that I am currently working today. When I was a 3rd year undergraduate student at a college in the United States, I was unsure of the future or what I wanted to do despite being a chemistry major. That was when, completely by chance, I stumbled upon an internship opportunity at Professor Goda's structural chemistry laboratory. In hopes of having a moment of clarity on how I want my career to pan out, I just plunged onto the opportunity. What I found was a research topic that was extremely stimulating and a group of passionate and motivated researchers pursuing their interests. I was awed by their research environment; fast forward a few years, I am happy to be a part of this lab.
The chemistry department, I am certain, is a place with plenty of wonderful serendipity. Classes, laboratory works, internships, and seminars are just a few of the excellent opportunities for you to explore and learn about the cutting-edge research currently on-going at the University of Tokyo. From fundamental research to applied research, laboratories at the Department of Chemistry engage in various interesting topics; you might find something that really catches your attention, something you didn't know, or something you never would have thought about in your wildest dreams.
Once you become a 4th year student, you will be expected to join a laboratory and conduct research work. Spoiler alert: it will be tough. And of course, merely waiting for good luck won't take you very far. You have to delve into the literature where your predecessors have accumulated vast amount of knowledge and discuss with your colleagues to have a deeper and insightful vision for your research topic. You might be overwhelmed or feel lost and unsure about where to even start. That is when you should rely on your professors and senior members of your lab. In a world with countless universities and research institutions, it seems to me that it is quite a serendipity that you are sharing this moment engaging in research at the same lab. With the help of others, you will overcome various obstacles and find out something new through your research. That is when, I think, you will find the true entertainment and joy of doing research in chemistry; a special moment you won't be able to find just by reading textbooks. So, why don't you join us in the pursuit of chemistry? Serendipity is awaiting for you.
---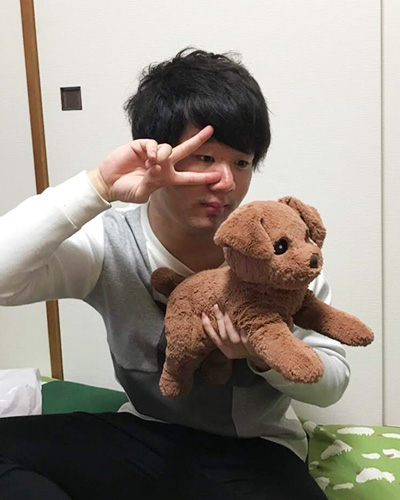 Ryusuke Masuda

Synthetic Organic Chemistry D3
I want to see the world through the filter of "Chemistry". That was how I decided to study chemistry. In today's rapidly developing society, we probably have very few opportunities to turn our attention to the materials and mechanism that form the basis of things and information around us. I believe that chemistry can realize the creation of such materials and phenomena by ourselves.
The reason why I chose the Department of Chemistry is that there are a wide variety of laboratories. This department has world-class laboratories in organic chemistry, inorganic chemistry, physical chemistry, geochemistry, and biochemistry. You can select the laboratory after you have determined the field you want to study, because you can spend one year conducting experiments in various fields before joining a laboratory. Furthermore, even after joining a laboratory, you have not only the research seminar beyond the laboratory but also lectures by many researchers all over the world including Nobel-Prize winners. I think it is a great attraction of this department to be able to come in contact with such latest research in a wide range of fields in everyday life.
If you have interests in chemistry, it is sure that this department will provide a satisfactory environment to you. I hope that you think carefully about what you want to do and you push on toward your dream. I'm glad if this message can support your next step.
---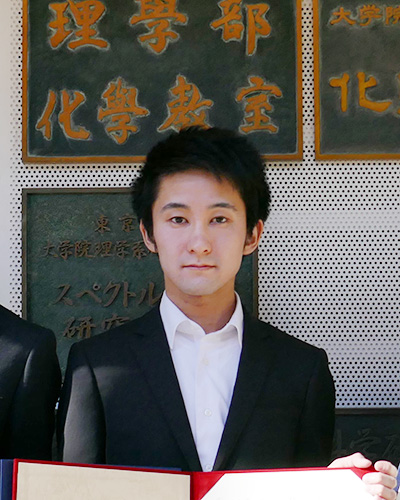 Takuya Matsubara

Quantum Chemistry D3
The biggest attraction of chemistry is probably its diversity. On the one hand, it overlaps with biology, and, on the other hand, with physics. Research areas covered by research groups in the chemistry department are practical, directly related to the society, while others are very fundamental and specialized. We can experience the basis of such various fields both in lectures and experiments during the first year in the chemistry course, which will help you gain a broad view and an interest in various fields. Moreover, it must be more enjoyable to study broader things.
The broadness of study in the chemistry department does not mean the shallowness of it. Researches in the laboratories in the department are at the highest level in the world. Students select a laboratory to join when they proceed to the second year in the department. You can study the frontiers in the field you are the most interested in among various fields you experienced in the first year.
You can study chemistry widely and deeply in the department of chemistry. I am looking forward to your joining.