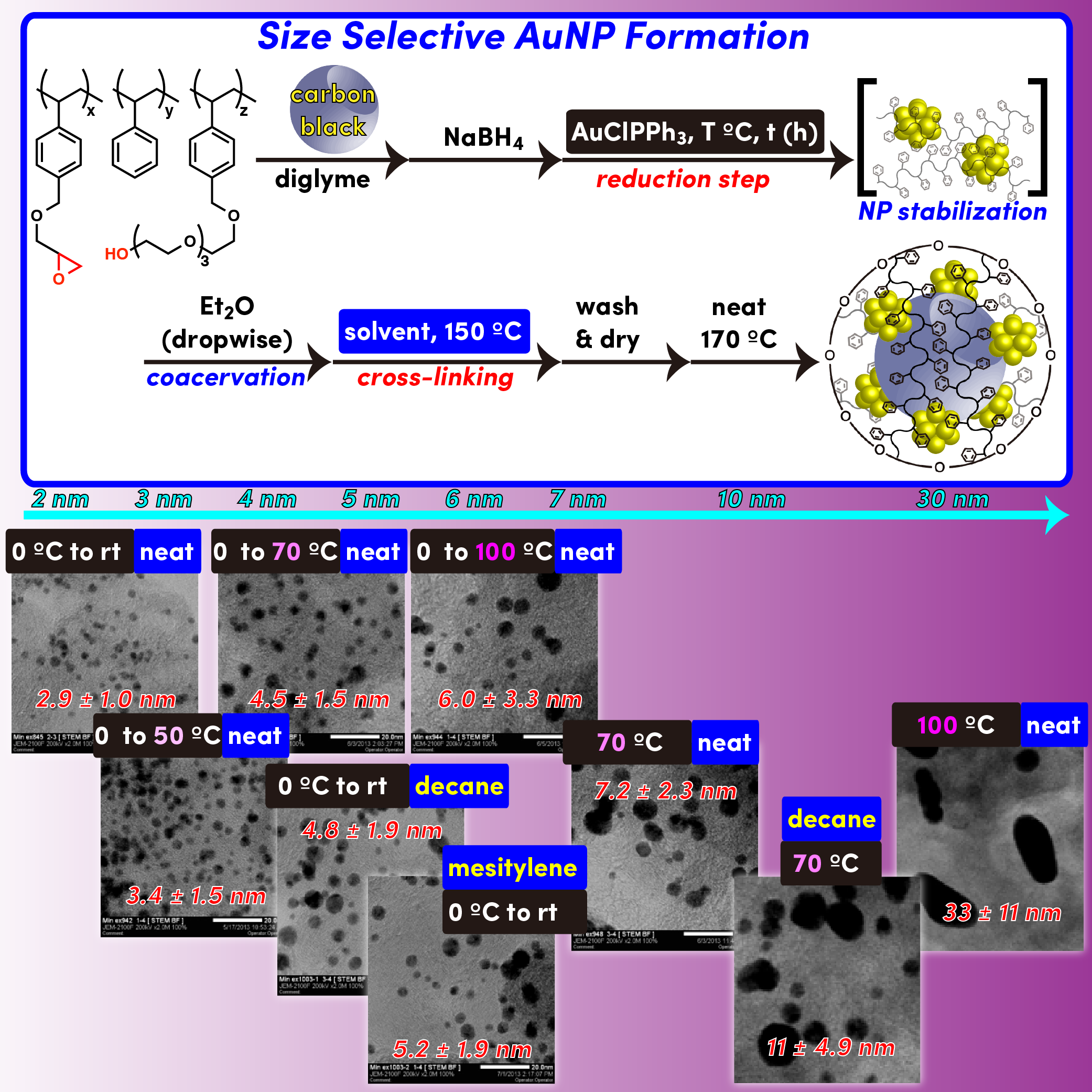 Size effect of Au nanoparticles (NPs) on reactivity and selectivity
 Size of nanoparticles (NPs) is important factor for catalytic activity and selectivity in Au-NP catalysis. Generally smaller NPs showed higher activity than larger one. We found very rare size effect of Au-NPs: Larger or medium size Au-NPs showed higher activity and selectivity than smaller ones.
 We also established the size selective polymer incarcerated Au-NP preparation. Generally, small Au-NPs were formed with mild reduction temperature, while larger sizes of Au-NPs were obtained at increased temperature for addition and reduction of Au(I) source. Cross-linking conditions (existence of solvents) also affected the size of Au-NPs.
---
Topics
Polymer incarcerated Au NPs: Correlation between loading, NP size, and reactivity

---
Comment
 Au nanoparticles that were prepared from Au(I) salt and NaBH4 could be incarcerated in polystyrene derived from polymer with cross-linking moieties. Sizes of Au nanoparticles were differed by loading of metal. Catalyst with higher loading contains larger nanoparticles, whereas catalyst with lower loading contains smaller nanoparticles. Smaller Au nanoparticle catalyst showed higher activity in aerobic oxidation of alcohols than larger one.
Plese see also here.
---
Access to paper
Aerobic oxidation of alcohols at room temperature and atmospheric conditions catalyzed by reusable gold nanoclusters stabilized by the benzene rings of polystyrene derivatives
Miyamura, H.; Matsubara, R.; Miyazaki, Y.; Kobayashi, S.
Angew. Chem., Int. Ed., 46, 4151-4154 (2007). DOI: 10.1002/anie.200700080 [VIP]
Size effect of Au nanoparticles: amine oxidation using PI-Au

---
Comment
 It is widely accepted that gold nanoparticle showed higher activity when its size was reduced to around 1.5-3 nm. When PI-Au catalyst was used for aerobic oxidation of amines to imines at high temperature (110-150 ºC), recovered catalyst showed higher activity than original one during recovery and reuse of PI-Au. Careful structural analysis revealed size of Au nanoparticles increased during reaction. We also prepared catalysts containing bigger nanoparticles by using solvents (decane or mesitylene) during cross-linking step. We confirmed definite correlation between size of Au nanoparticles and reactivity in amine oxidation. This is a quite rare example that bigger Au nanoparticle showed high activity than smaller one.
Plese see also here.
---
Access to paper
Aerobic Oxidation of Amines Catalyzed by Polymer-Incarcerated Au Nanoclusters: Effect of Cluster Size and Cooperative Functional Groups in the Polymer
Miyamura, H.; Morita, M.; Inasaki, T.; Kobayashi, S.
Bull. Chem. Soc. Jpn. 84, 588 (2011). DOI: 10.1246/bcsj.20100300
[BCSJ Award Article]
Selected as cover
NP size driving selective amide synthesis from aldehyde and amine

---
Comment
 We could selectively prepare Au NP catalysts with different particle sizes (2.9 – 33 nm) by changing reduction temperature and use of solvents during cross-linking step (Please see above image). We found a clear influence of Au-NPs size on amide formation from aldehydes and amines using molecular oxygen as oxidant. Au-NPs of medium sizes (4.5 – 11 nm regardless of preparation method) was found to be optimal for selective amide formation suppressing undesired imine formation. We assume that efficiency in reaction environment, which is highly influenced by available site of Au-NPs, and oxidation ability are important factors for good selectivity toward amide products and that good balance between these two factors is obtained in Au-NPs of medium size.
---
Access to paper
Size of Gold Nanoparticles Driving Selective Amide Synthesis through Aerobic Condensation of Aldehydes and Amines
Miyamura, H.; Min, H.; Soulé, J.-F.; Kobayashi, S.
Angew. Chem., Int. Ed. Accepted(2015). DOI: 10.1002/anie.201501795